24th Jan 2022
Acne Scar Treatment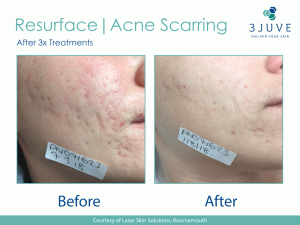 ResurFACE fractional laser provides total rejuvenation to give the skin a smooth, youthful and glowing appearance and is highly recommended for individuals who want a smoother skin texture or an improvement in the appearance of Acne scarring.
Scaring treatment – dramatically smoothing and removing common facial acne scarring and other commonly scarred areas of the skin.
How does fractional laser for acne scarring work?
A laser beam is fragmented into tiny beams of light which penetrate into the dermis (the second layer of skin), to stimulate collagen production. At the same time it also resurfaces the upper layers of the epidermis (the top layer of skin), meaning you get significant collagen production creating a smooth, more even appearance to the skin.
How is the treatment carried out?
The skin is cleansed before laser treatment commences. The laser beam is then moved over the skin delivering tiny fraxellated beams of light into the skin. Treatment time varies depending upon the skin condition and the area being treated.