12th Oct 2023
Is Diode Laser Effective for Hair Removal?
Is Diode Laser Effective for Hair Removal?
When it comes to getting rid of unwanted hair, there's a multitude of offerings out there but not all are created equally! Of course, it depends on the individual and what is most important to them but here at The Laser Clinic Morpeth we have the latest
Laser Hair Removal
technology that ticks all the boxes! and it goes by the name of
INITIA Diode
Laser! Wouldn't it be amazing to have smooth hair free skin, a treatment that removes hair permanently and is pain-free as it is literally a beam of light that zaps those unwanted hairs away? We just love the latest scientific innovations as it's a win-win as it makes all our lives easier.
Diode laser hair removal is what the industry has been waiting for and can debunk a lot of the myths and tales that put a lot of people off laser hair techniques. These lasers are like heat-seeking missiles for hair follicles. They lock onto the hair's pigment, zap it with gentle heat, and hey presto your hair follicle is out of the game! But don't worry, your skin remains unscathed and subsequently lovely and smooth.
The best part? Diode laser hair removal is seriously effective. After just a few sessions, you'll notice a significant reduction in hair growth. No more worrying about shaving, waxing, or plucking. You're on your way to hairless freedom.
Speed is also on Diode Laser's side. It's a fast worker, covering large treatment areas quickly. So, whether you're taming those unruly leg hairs or bidding farewell to a fuzzy chest, this Diode has got your back!😉
Of course, it's important to remember with perfection comes a little bit of time and investment. You'll need a series of sessions to see the best results. The number of sessions can vary from person to person, depending on factors like your skin type and hair colour, so we have a great
special offer
for you which should be ideal for most clients. Buy 5 treatments and you will receive the 6th treatment completely free of charge.🙌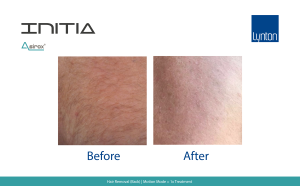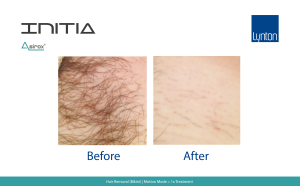 In a nutshell, its quick, effective, painless and a bargain! If you're considering this treatment and want to chat a few things through first why not book a consultation or if you are ready to be free of the worry of getting caught out with spiky bits book directly
here
alternatively complete this
enquiry form
or just give us a bell or what's app on 07783 376702